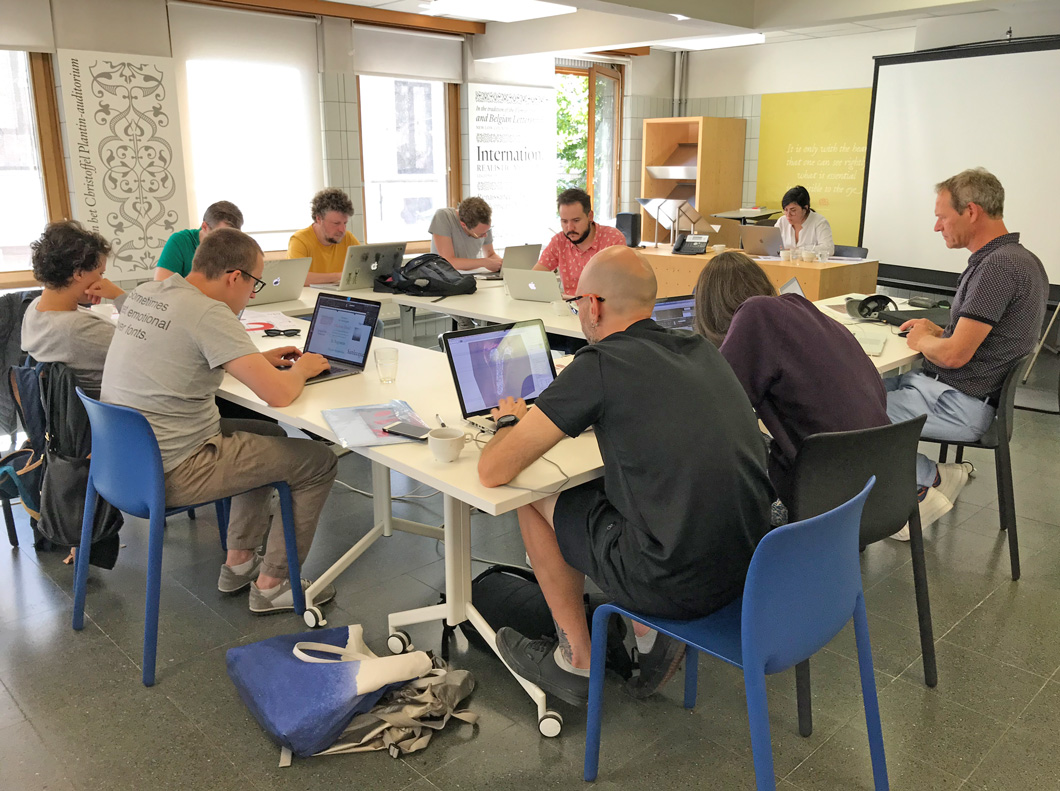 Welcome
Expert class Type design
The Expert class Type design course comprises ten lessons in the auditorium of the Museum Plantin-Moretus over a period of roughly three quarters of a year. The purpose of the course is to facilitate students' exploration and analyzation of the historical and technical (production) aspects of type and typography, to teach them how to design type into detail, to help them to develop an in-depth insight in the process of digital font production, and to support them to gain control over related software.
An important aspect of the course is the direct exchange of knowledge and experience between the students. This exchange is stimulated by a type-revival project on which the students have to work together. The revival is always based on unique historical material from the renowned collection of the Museum Plantin-Moretus. Besides taking part in the revival project, each student personally has to design a new typeface, whether completely from scratch or being a revival that, for example, is also based on material from the museum's collection. The course culminates in an exhibition that yearly takes place at the Museum Plantin-Moretus, or occasionally at an exquisite location elsewhere in Belgium or the Netherlands.
This course is taught by type designer, font producer, software developer, and Senior Lecturer Dr. Frank E. Blokland.
---
Open day 2020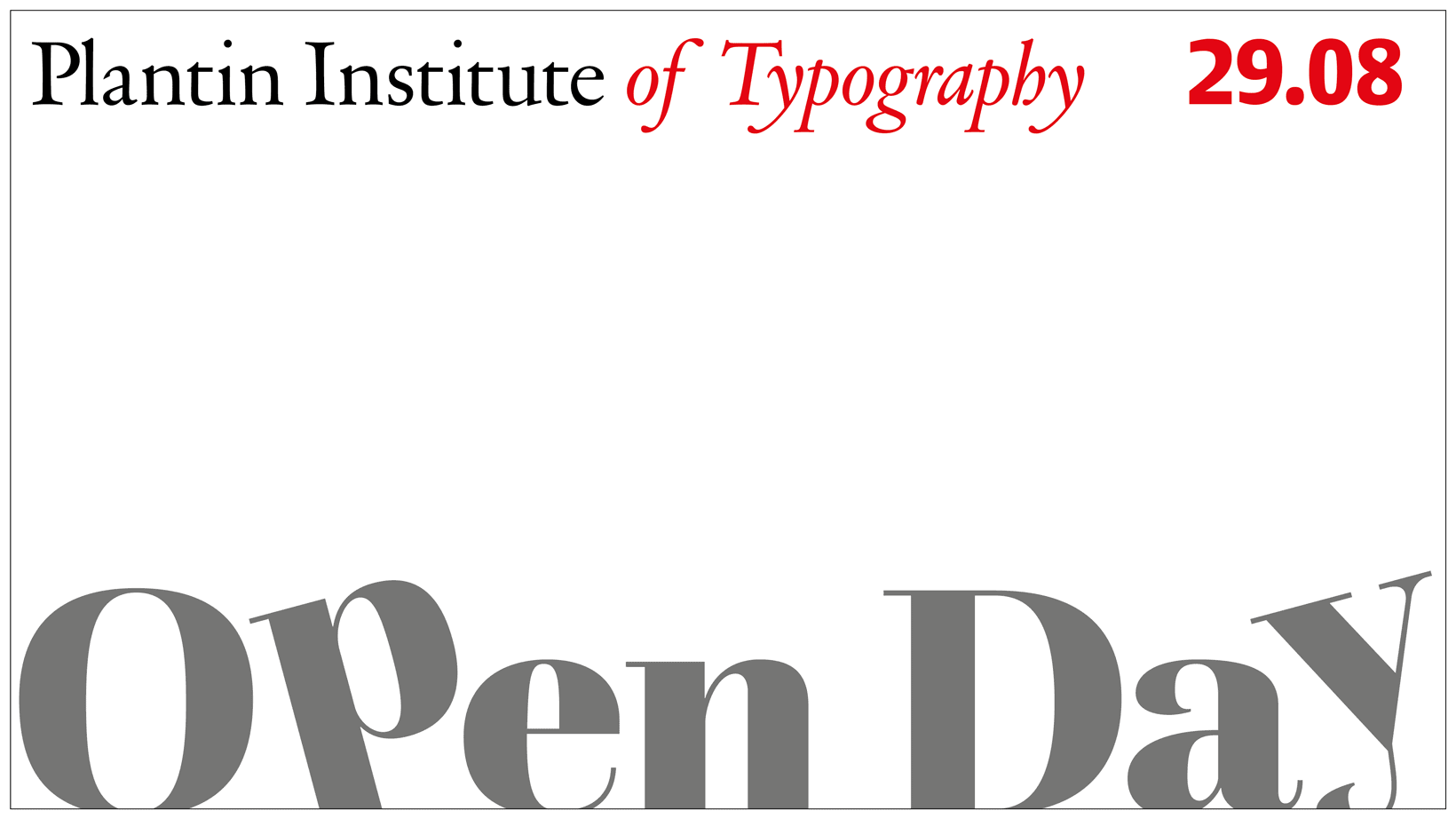 The institute's open day will take place on Saturday 29 August 2020 and this is the perfect opportunity to inform you about the range of courses on offer. There is a teacher and a student present to answer all your pressing questions, you can view some of the teaching materials and the graduation work of our practicals. We will show you how we continued the lessons during the lockdown through remote learning.
This year's edition will be held in three sessions with four participants each. You can also participate in the sessions via Zoom.
Lecturer: Dr. Frank E. Blokland will answer questions via Zoom.
Enthusiastic? Register with an email to plantin.instituut@antwerpen.be and we will make an appointment with you.
Is this date not suitable for you? Then we make an appointment for an extra session, in our classroom in the Museum or via Zoom.
---
Ramiro Espinoza's Guyot is the main typeface in redesigned Handelsblatt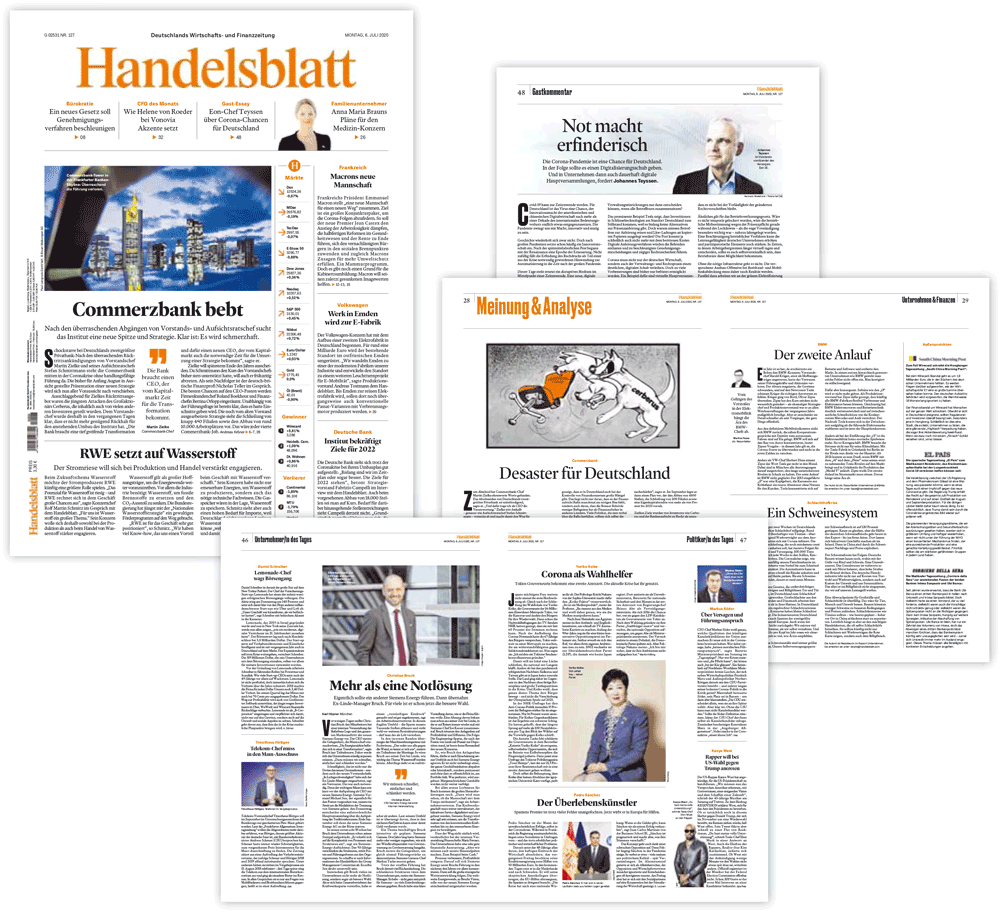 The German newspaper Handelsblatt was redesigned by Garcia Media and Guyot, a typeface which started in our Expert class Type design, is now the main typeface for titles and texts.

Guyot is a type family inspired by the work of the punchcutter François Guyot, who lived and worked in Antwerp during the sixteenth century. Ramiro Espinoza got acquainted with the work of Guyot while attending the Expert Class in Type Design at Antwerp's Plantin Institute of Typography. Researching French and Flemish punchcutters, Espinoza soon realized that the work of the most important masters of the period had already been digitized.
Eventually the examples in Folger's type specimen – attributed to François Guyot – which were reproduced in Sixteenth Century Types of the Low Countries caught Espinoza's attention. Although the two biggest roman sizes were cut quite irregularly, they had some attractive features, and the matching italics were positively charming. And so a digital Guyot seemed in order.
Espinoza took macro images from Plantin's famous 1567 type specimen that features Guyot's roman and italic Ascendonicas. These images were printed in a relatively large size, after which Espinoza cleaned up the contours and interpreted the letterforms by sketching them using different approaches. This constituted the first step in the process of defining the character of the font. Once this month-long analog stage was over, he started digitising the letters.
Espinoza decided early on that his Guyot was not going to be a facsimile typeface. He increased the x-height dramatically to accommodate the preferences of current magazine and newspaper designers and editors.
Gradually specific features present in the original metal types were abandoned in the process of improving the digital contours, making the new fonts acquire their own identity. Espinoza drew on his past experience as an in-house newspaper designer, as well as on his current work in font production for the editorial market. His background played a significant role in the decision to give the letters a sturdy appearance and sharp angles.
During his year at the Plantin Institute of Typography, Espinoza researched additionally the work of several punchcutters from the seventeenth century. Details common to the types of that period – like an increased contrast and an enlarged terminal in the a – were applied to Guyot to give its look a more familiar and universal appeal. The Guyot family was eventually divided into three subfamilies: Headline, Text and Press to take full advantage of the possibilities of these optical ranges.
In 2018 Guyot was awarded by the Type Directors Club with a 'Certificate of Typographic Excellence'.
Ramiro Espinoza (Santa Fe, 1969) studied graphic design at the Universidad Nacional del Litoral in Santa Fe, Argentina. After graduation he taught Typography at the Universidad de Buenos Aires.
He specialized in type design at the KABK's Type and Media in The Hague and the Expert class Type design of the Plantin Institute in Antwerp (2015–16). In 2007 he founded the Retype Foundry to market his typefaces.
---
New chapter in our corona adventures
Our exams and some hands-on classes will take place in the reading room of the Museum Plantin-Moretus
The exams of the Expert Classes Typography & Design, and the Book Design practical will take place in the new reading room of the Museum Plantin-Moretus. Thanks to the bigger size of the room, our students can take the exams in complete safety. Yet another new chapter in our adventure, which started with the lockdown mid-March.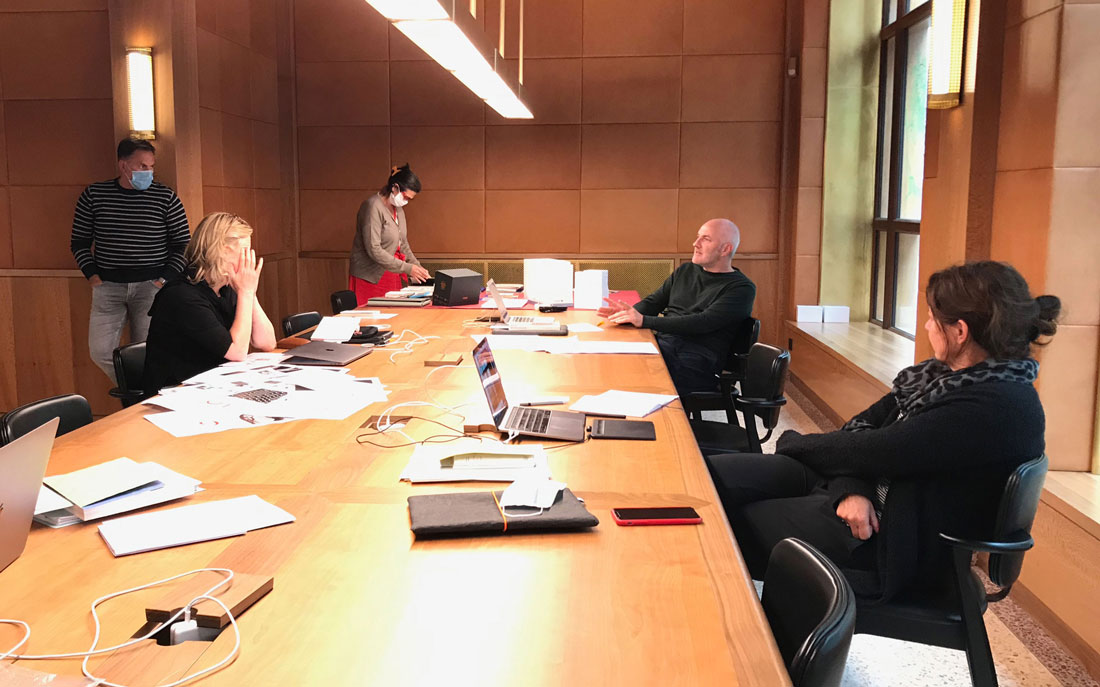 Expert class Type design during the lockdown
We are happy to attract an international audience for our Expert class practical, with students from Russia, Germany, Italy, the Netherlands and Belgium. It definitely adds value to the class as it brings people with different backgrounds together to work on one font.
Yet this international nature proved to be a hitch this year. Our student from Milan was confronted with corona-lockdown sooner than in Belgium. And now that classes would be possible again in the reading room, it is not possible yet as travelling is still heavily limited.
Fortunately the students from this course work together in the cloud for years already using different state-of-the-art solutions. For their research, students had collected all their scans and photos in the cloud as well.
To compensate for the missed classes in the beginning, additional lessons will be set-up, using work@home, in June and in August.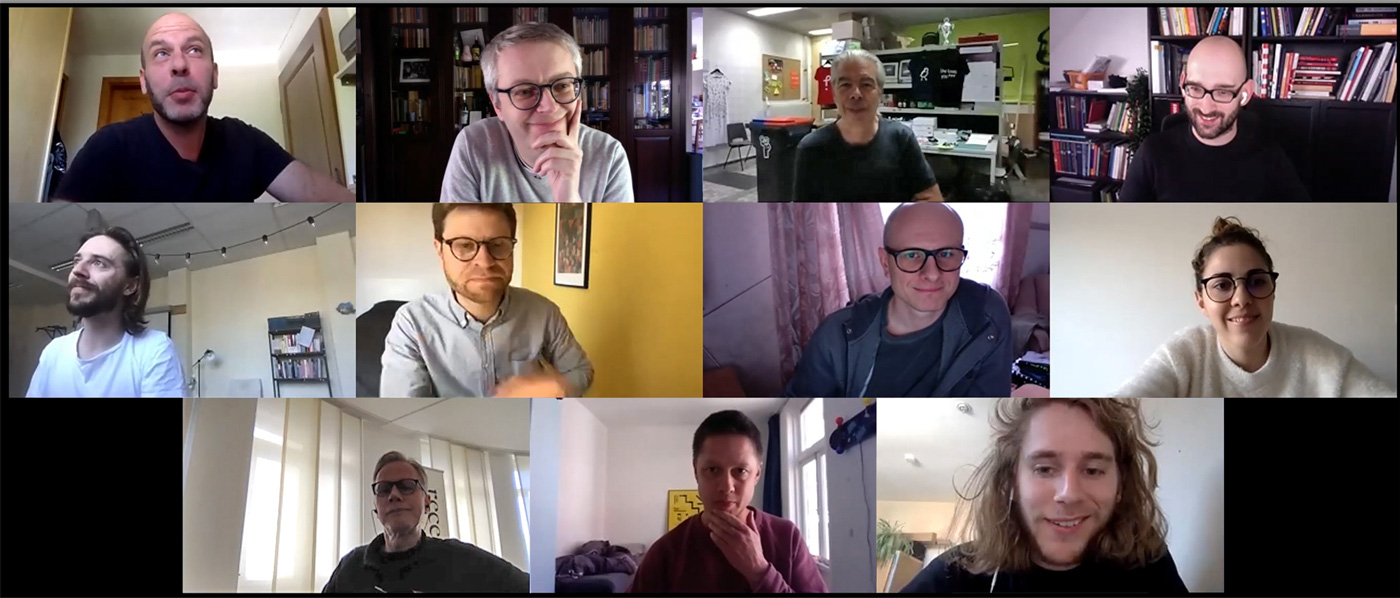 All this didn't hold back our students. Although the individual letter designs are not yet finished, the plans are ambitious. Instead of one revival in the group work, this year's group dared to work out both a roman and an italic. They worked on the same historical artefacts of Granjon which Matthew Carter also used for the Galliard font and they discovered how Carter had tackled his revival in a less authentic way. And what about a revival of Griffo's italics, which are as printing type still very close to handwriting? You will be able to judge for yourself at the exhibition in September.
Scanning service
While (local) students can now return to the museum's reading room for their research, others can make request for books, which are then partly digitized by the reading-room staff on a professional book scanner. Fortunately punches and matrices had already been photographed before the crisis and are shared in the cloud.
Saturday course
As nobody could foresee how long we would not be able to get together, all courses that imply practical work were pushed backward and all theoretical courses were moved foreward. Using Skype and later Zoom allowed us to work@home.
At the beginning we started with 3 hours of teaching remotely but this was quickly upscaled to 6 hours. Thanks to the great number of teachers, the wide variety of topics made it perfectly doable. We thank our teaching staff for the extra effort. We were able to learn a lot about new tools that facilitate remote learning. While some of the lectures could be used as is, others were reviewed drastically and have proven to be future-proof now.
Now the exams
Even if everybody missed the interactivity and networking, as well as the browsing in our library books, they all appreciated the amount of information that was shared even though we were not physically together.
The year will be rounded off with two exams. We highly appreciate that we can get access to the new reading room of the Museum which is bigger and offers enough space to all students. On top of that the reading room is a pleasant setting for this occasion.
Expert class Book design
Opposed to lectures, the Expert class Book design requires a hands-on approach. Johan Van Looveren, lecturer of the Expert class, has set up a dedicated website so that students could blog about their design progress, as well as sharing tips and tricks about InDesign and typography. Guest speaker lectures happened remotely and were recorded for later review.
Sofie Jacobs, paper consultant at Papyrus, even sent every student a sample book beforehand to allow everyone to feel paper characteristics like paper weight and thickness at home.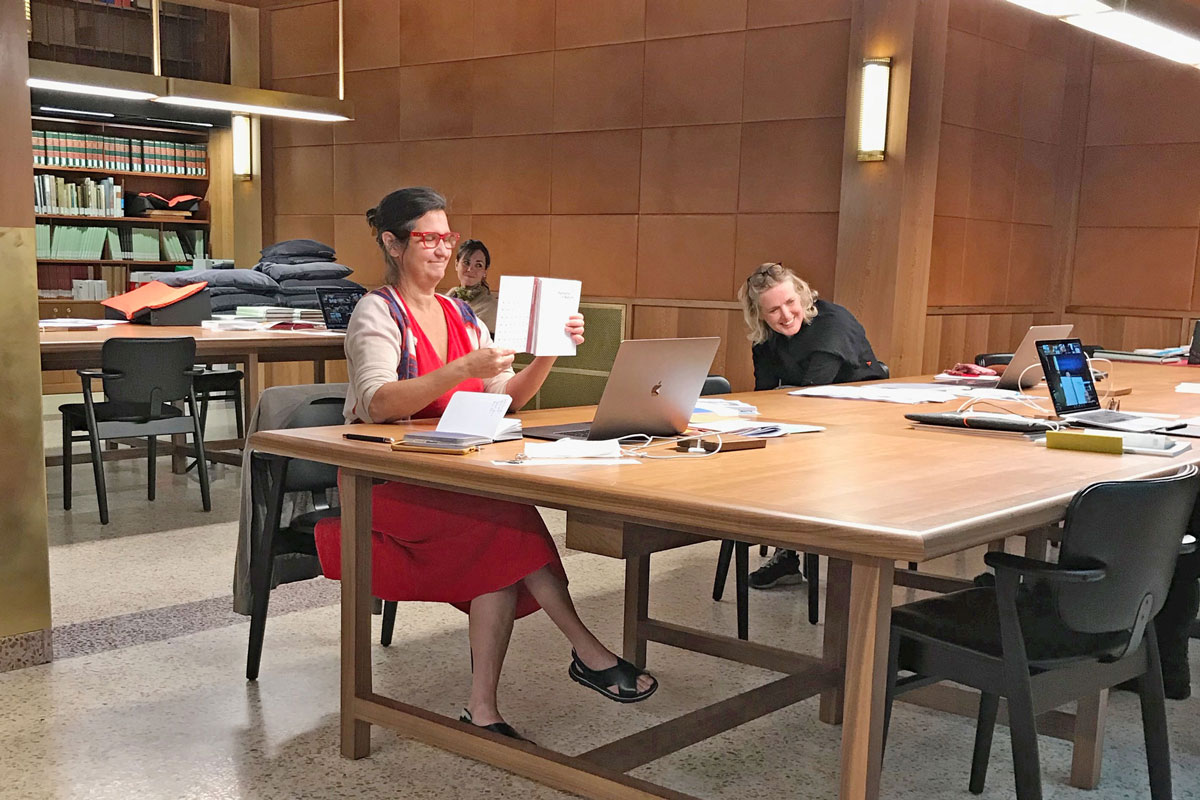 Now we go back to regular classes
For the last two classes of the book design lab we work back in the class room. With good hand hygiene, 1,5 meter social distance and mouth masks it will be safe. The students are all handed out a brochure with safety rules. This way sample collections with cover papers and the examples of industrial binding methods will be available for consultation again. But the option to work@home is still open as all lessons are streamed via Zoom. This way we will be able to finish the year properly: after the presentation of book designs to a three-member jury on July 10, students will also present their work with printed and finished samples at the annual exhibition (Sept 19 through end of October in the Sint-Paulus church in Antwerp).
Postponed but not forgotten
Still not everything worked out as wanted. The international summer school on typography will be postponed to August next year. And if all goes well, the graduation event will take place on 20 March 2021.
---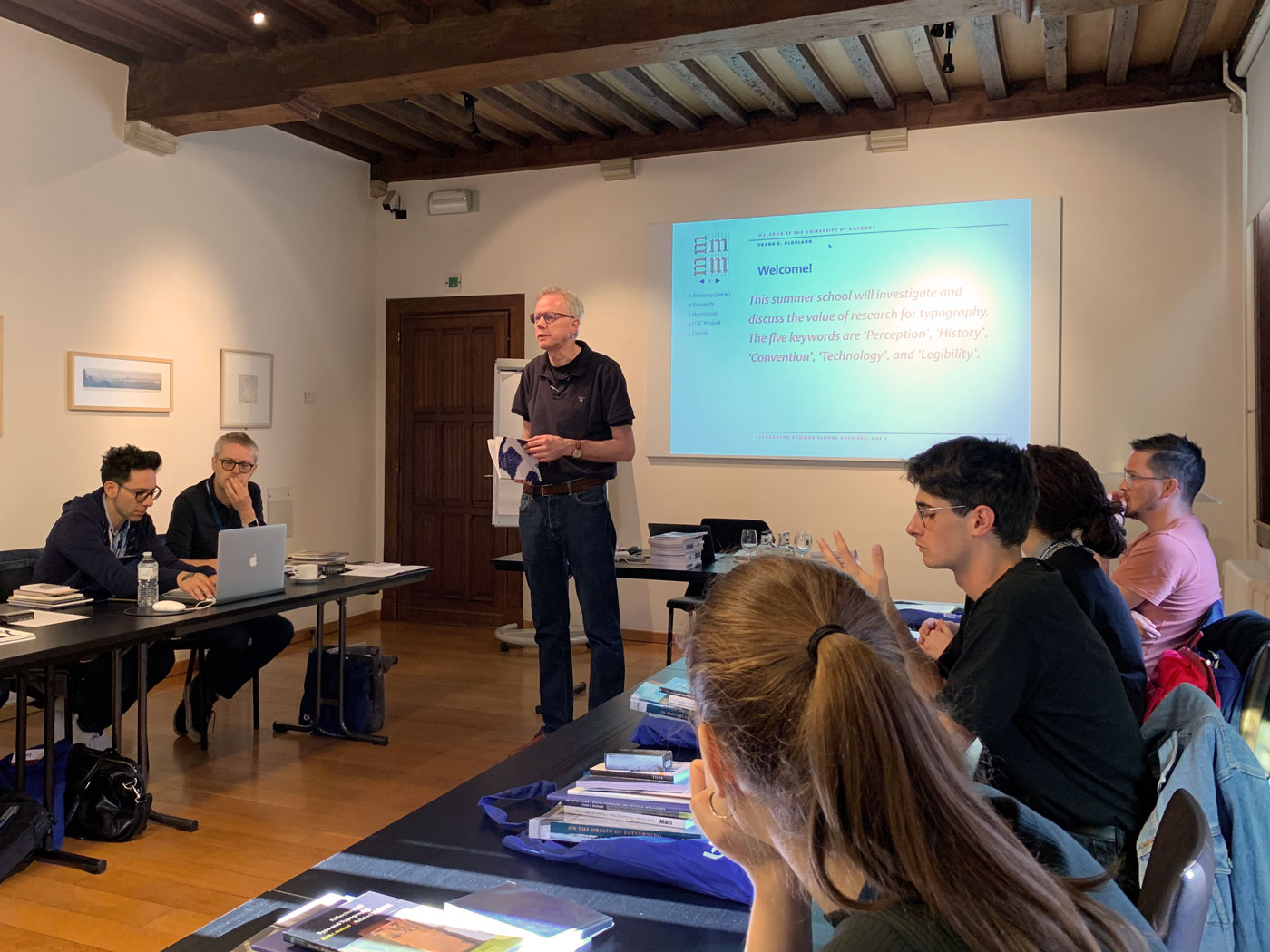 Save the date: Typography summer school 2021
Summer school with Dr. Frank E. Blokland, Dr. Wouter Soudan, Jan Dries, Joost Depuydt, Dr. Goran Proot, Thomas Milo, Walda Verbaenen and Patrick Goossens.
From 23 to 27 August 2021, the Plantin Institute of Typography and the University of Antwerp organize  an international summer school on 'critical approaches to typography'.  The detailed program and application form will be available at  www.uantwerp.be/typography-summerschool.
As you know the rise of desktop  publishing in the second half of the 1980s changed the graphic  landscape completely. Within a decade the highly specialized métiers of the typesetter and typographer were merged in that of the  computerized graphic designer, irrespective of whether macOS, Windows,  or Linux is used. Together with these operating systems came an  increasing number of fonts and today everyone is a typesetter by  definition. However, not everyone is automatically a typographer too,  because typography requires specialist knowledge and insight. New  terms as 'macro-' and 'micro-typography' have become popular nowadays,  but they are only synonyms for typesetting and typography respectively.
All present-day graphic designers are 'macro-typographers', but not too many are also 'micro-typographers'. Hence, not all of them will be  able to give the answers to questions about, for example, what forms  the basis for the patterning in type, or on what exactly typographic  conventions are based. In the meantime digital typefaces are becoming  more and more advanced and sophisticated. After all, OpenType Layout  features will mostly automatically insert and adjust all kind of  detailed (and technically complex) matters, such as ligature  substitutions, the application of contextual alternates, related  positioning of diacritics, et cetera. For this, in the past the  typographer had to write detailed instructions for the typesetter.  However, to be able to judge and consequently handle the advanced  digital outcomes, a deep understanding of what exactly typography  comprises, remains required.
During the Typography Summer Course at the University of Antwerp, the  fundamental aspects of typography are researched. Since the end of the  1990s Dr. Frank E. Blokland, our senior lecturer, is deeply involved in the development of high-end font tools. Some of these tools,  like OTMaster, will be used at the course for a more detailed look at  digital-font technology. However, one does not have to be technically  savvy at all for this. Furthermore, not only technical but also  optical aspects will be investigated, as well as the (historical)  origin of typefaces, the type designers in question, and in case of  revivals, the (interpretation of the) style periods in which the  original typefaces were made.
In collaboration with the University of Antwerp and the Museum Plantin-Moretus