Open day 2021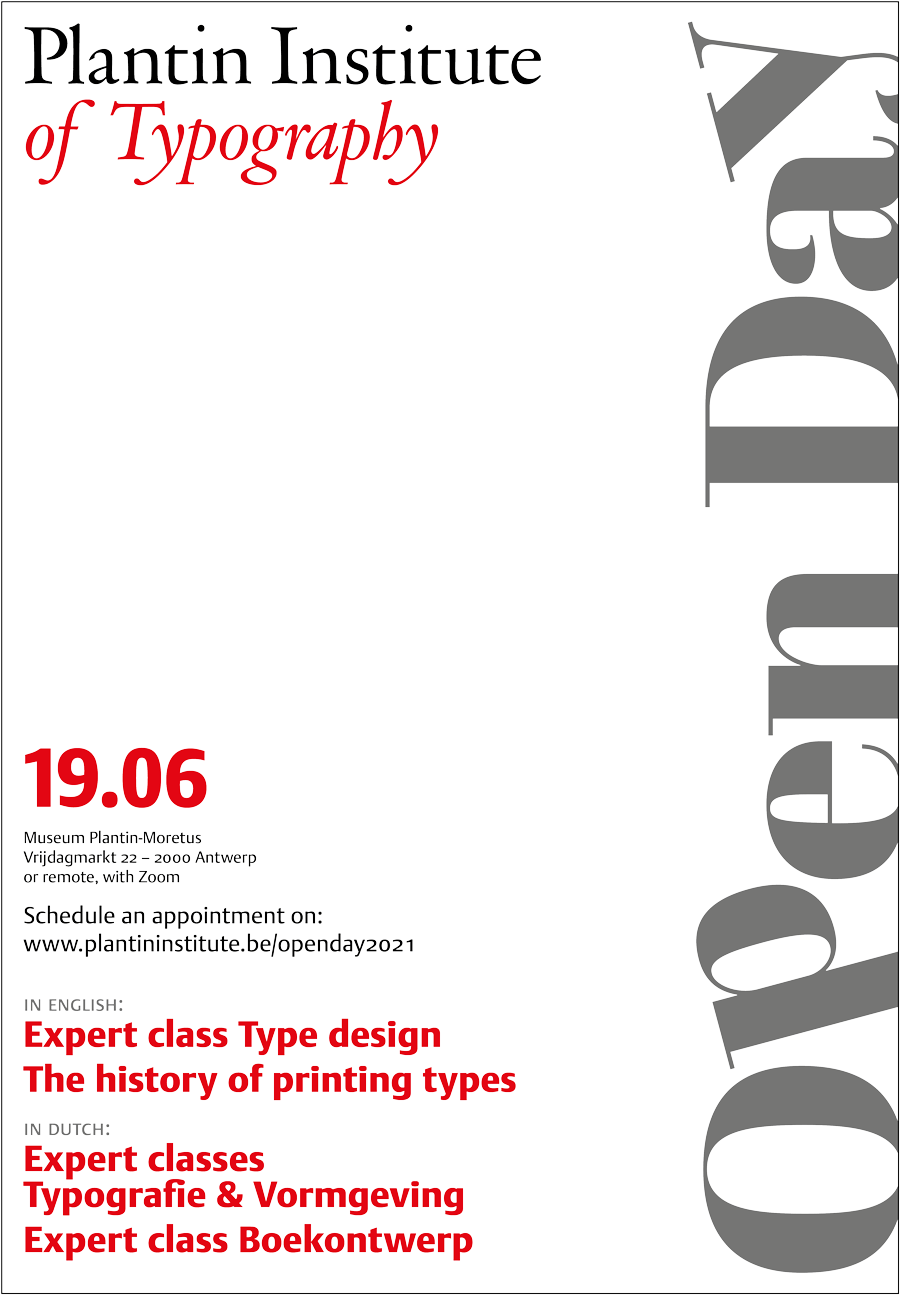 Are you professionally active, but do you want to continue to develop within the graphic field? Or do you want to master a new skill?
The Plantin Institute of Typography offers a practical course in which you learn the professional ins and outs of type design. This Expert class Type design comprises nine daylong sessions, divided over a period of three quarters of a year. New this year is our four-day programme in Antwerp which supplements the online course. This practicum, given on Wednesday, is one of a kind and attracts an international audience of type designers.
For the first time John A. Lane will give his series of lectures about the history of printing types in English. The course (November-December) will be taught in the classroom at the Museum Plantin-Moretus in Antwerp, but international students can participate remotely via Zoom.
For Dutch-speaking students and professionals we organise a two-year postgraduate course with lectures on Saturdays. The topics range from publishing to book science and from font technology to editorial design. All lectures can also be taken separately as a short module. We organize the Expert class Book design on Friday. Here you will research different methods to arrive at a well navigable and pleasantly readable book. This course begin in January and your design will be exhibited in the museum during the summer.
The open day of the Plantin Institute will take place on Saturday 19 June 2021 and this is the perfect opportunity to inform you about the range of courses on offer. Frank Blokland will be available to answer your questions via video-chat, you can view some of the teaching materials and the graduation work of our practicals.
This edition will be held via video-chat, with Zoom. The English session will be at 3 p.m. Central European Time.
Enthusiastic? Register with an email to plantin.instituut@antwerpen.be and we will make an appointment with you.
Is this date not suitable for you? We will have other sessions on July 3, 2021, or make an appointment for an extra session via Zoom.